Vedana restaurant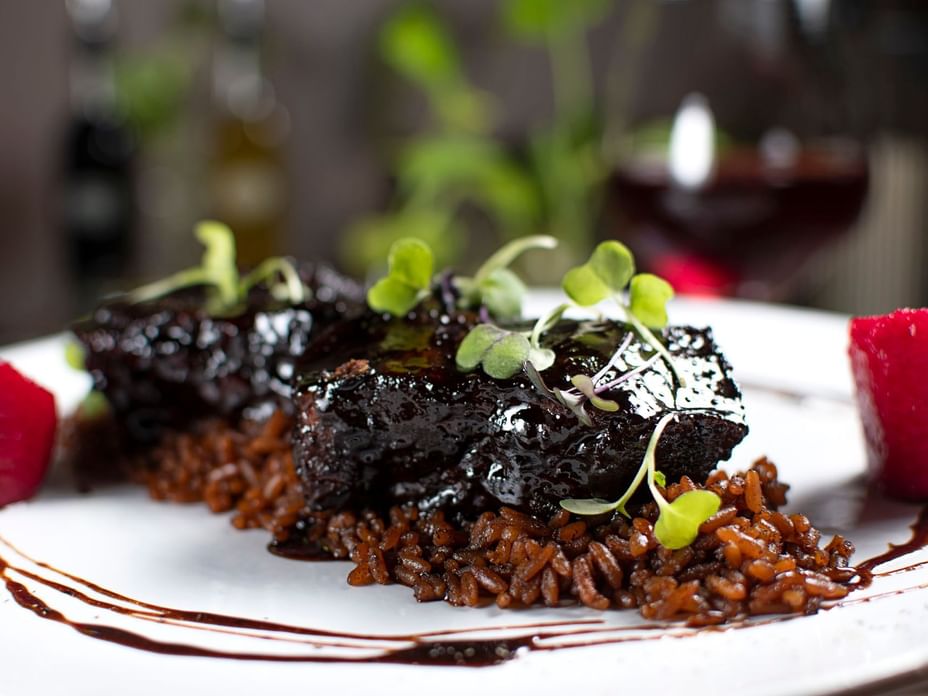 In an inviting space framed by ancient arches, clay-tiled ceilings, and a romantic internal patio, Vedana Restaurant transports you to a festival of flavors, smells, and colors that delight the palate and nourish the soul.
As a starter, the menu offers a wide variety of ceviches. You can choose the sea bass in leche de tigre; shrimp marinated in brandy and red sauce; or a trilogy of sea bass, octopus, and shrimp in different Caribbean bases. All accompanied by crunchy plantain chips.
La Posta Cartagenera is one of the most requested entrees and honors Cartagena's coastal gastronomic tradition. It is a haunch tip cooked for 16 hours, whose main ingredient is organic panela, allowing you to taste the sweetness in each fiber. Coconut rice and tempting bananas accompany this delicious choice.
The seafood casserole cooked in lobster bisque, or the seafood linguine with basil pesto and sautéed shellfish, are also delightful. Among the decadent desserts, you can sweeten your senses with a typical Caribbean enyucado or a creamy pistachio cake.
At Vedana, every detail counts, even the laces on the menu have their history, as they were woven by a Wayúu family from the Colombian Guajira.
It is truly a place that lives up to its name
The word vedana translates as "feelings." It is the way we experience things, sounds, smells, tastes, and thoughts that we immediately filter as pleasant, unpleasant, or neutral.
In this place called Vedana, we can assure you that these "sensations" will always be pleasant, because here, what is generated are positive experiences through the service, the food, and the environment.
With a maximum capacity of 40 guests, Vedana is also a great option for private events.
40 guests